Traditional Dental Implants vs. Mini Dental Implants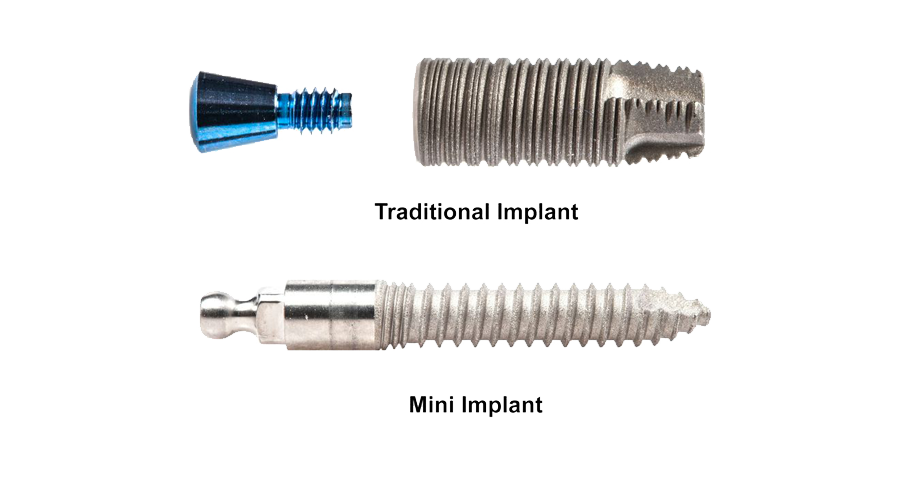 There are few things in life that are absolutely certain. However, if you are missing one or more of your natural, this much is certain: Dental implants are the best method of replacing missing teeth currently available. There is no other treatment option that comes close. When dental implants are used to secure a single dental crown, a dental bridge, or a set of dentures, they recreate the structure of missing teeth from root to crown so successfully that even your body will not be able to distinguish the difference. In the vast majority of cases, the body accepts the titanium implant post as a new tooth root, which allows it to integrate with the jawbone and essentially become part of the patient's natural anatomy.
While dental implants may provide the definitive solution to tooth loss, it should be noted that not all dental implants are alike. While all dental implants are relatively small, technology has progressed to the point that it is now possible to secure restorations with less bone density, thereby eliminating the need for bone grafting in certain candidates. In discussing the issue of traditional vs. mini dental implants during consultations at our Houston, TX implant dentistry practice, Dr. Randy Mitchmore explains the differences in diameter between the two options and how it could affect the patient's candidacy.
Traditional vs. Small Diameter vs. Mini Implants
Dental implants can be broken down into three basic types according to their diameters:
Traditional dental implants: These implants, which have been used successfully for decades, usually have a diameter of between 3.7 mm and 5 mm.
Small diameter dental implants: These implants represented a true breakthrough in dental implant technology, with their diameters ranging between 2.2 mm and 3 mm.
Mini dental implants: These implants are a variation of small diameter dental implants, with diameters that range between 1.8 and 2 mm.
Comparing Traditional Implants with Mini Implants
Both traditional implants and mini implants operate according to the same philosophy. Both types of implant posts are composed of titanium, which is not recognized by the human body as a foreign substance. This is why dental implants are able to fuse together with the jawbone and provide exceptionally strong and stable support for replacement teeth.
Something else occurs when dental implants are embedded into the jawbone. The body's perception that the tooth roots have somehow regenerated halts an unfortunate process that begins when teeth are lost. This process is a destructive one that results in the steady degradation of the gum and bone tissue that once supported the original tooth root. The body interpreted the loss of the tooth as a sign that the gum and bone tissue no longer required any nutrients or other precious resources, so it simply stopped providing them. With the implant in place, those resources are once again directed to the bone and gums in the area.
Depending on how much time passed between tooth loss and tooth replacement, quite a lot of bone could be missing from the site. Since dental implants must fuse together with the jawbone for implant dentistry to be successful, sufficient bone density is vital. This is why many patients are required to undergo bone grafting prior to the surgical placement of dental implants. This adds time and expense to the dental implant procedure.
However, with mini dental implants, less bone is required for support. A greater number of candidates are able to benefit from a less invasive, more comfortable procedure with no need for bone grafting. While some patients will still require bone grafting, mini dental implants have been a true game changer for many other patients.
Learn More about Traditional vs. Mini Dental Implants
To learn more about traditional vs. mini dental implants, please contact LifeSmiles today.